In 2019, an amendment to the Conduct of Employment Agencies and Employment Businesses ("Conduct Regulation") introduced "Key Information Documents".
If you lead a recruitment agency and you are not aware of "Key information Documents", it is more than likely that your company does not comply with this legislation.
We will present to you the legislation behind the Key Information Document and how you can easily become compliant today.
Let's dive into it!
What is a Key Information Document?
From the 6th of April 2020, contractors should receive Key Information Documents (KID) from their employment agencies.
In their guidance, HMRC clearly describe the purpose of this new regulation:
"The key information document is intended to improve the transparency of information for agency workers, particularly around pay. It will give agency workers more immediate access to key pay-related information before agreeing on terms with an employment business and a clear idea of how any fees and deductions will affect their pay." (HMRC Guidance)
There are several points in the HMRC guidance that create a real challenge for recruitment agencies to become compliant without any third-party solution:
It is the Responsibility of the Recruitment Agency to issue Key Information Documents to the contractor even if the contractor is engaged through an Umbrella Company. All Key Information Documents MUST be sent by the recruitment agency.
Key Information Documents should be one of the first things a recruitment agency gives to their agency workers (HMRC Guidance, Page 7)
Key Information Documents should be provided to all Agency Workers for each employment type the recruitment agency offers to their candidates:

Agency PAYE
PSC Inside IR35
PSC Outside IR35
Umbrella Company

Key Information Documents must include a representative example statement to demonstrate how the listed deductions will be made and how it will affect the worker's take-home pay. Real numbers must be used in the example statement.
The Contractor must at least receive a Key Information Document that reflects the payment method that they are to be contracted under (Agency PAYE, Umbrella Company, PSC).
A new Key information Document should be issued as soon as there are changes in the contractor pay, such as adding a Student Loan, a salary sacrifice pension contribution, etc.
The complexity increases when an intermediary such as an Umbrella Company is involved. Having a collaborative platform to ensure a high level of communication between recruitment agencies and their Umbrella Companies on any pay changes is essential. We will cover that in point 4: "Solution: A Key Information Document Generator".
What should a Key Information Document include?
The real challenge for Recruitment Agencies is that the Key Information Document should vary depending on whether it is a KID for Agency PAYE, Umbrella Companies (Different for each Umbrella Company), PSC inside IR35 or PSC outside IR35.
Here is a quick overview of what kind of information Key Information Documents should mainly consist of:
Payroll Facts:

The name of the worker (optional)
Contract type (Contract of Service, Contract for services, etc…)
Rate of Pay
Pay Interval
A list of Statutory Deductions (Income Tax, NIC, Student Loans etc)
A list of Non-Statutory Deductions (Private Healthcare, etc)
Any Fees for goods, services or any other benefits
Information about the leave entitlement

Example statement:

A breakdown of all employment costs (for Umbrella Companies Only)
Any employee deductions
Any fees for goods and services
An Example of net take-home Pay
If an Intermediary is involved it should break down the salary from the assignment rate and specify all employment costs (NIER, Employer Pension Contribution, Apprenticeship Levy, etc.)
When are Recruitment Agencies required to send KIDs?
The following is a process that has been broken down into 3 stages as to when Key Information Documents should be issued:
Stage 1:
Generic Key Information Documents should be sent to agency workers as one of the first documents the recruitment agency sends to their candidates, before agreeing on contractual terms.
The best practice described by HMRC is to send a Generic Key Information Document for each engagement method the recruitment agency offer to their candidates (Agency PAYE, Umbrella, PSC).
Stage 2:
Once placed by the agency, the candidate should choose which engagement method they would like to use and a new Key Information Document for this specific candidate should be generated.
Any specific deductions such as Student Loans, Salary Sacrifice Pension Contribution, name of the chosen Umbrella Company etc. should be added in the payroll fact and the illustration (example statement)
Stage 3:
If there are any changes to the information that is reflected in the Key Information Document, a new KID should be sent by the recruitment agency to the contractor.
Please find below a non-exhaustive list of changes that will mean issuing a new Key Information Document to the contractor:
Opt-Out Auto-enrolment Pension Contributions
Opt-in Personal Pension Contributions
Change of Umbrella Company
Change of Pay Frequency (Weekly / Monthly)
Adding a new deduction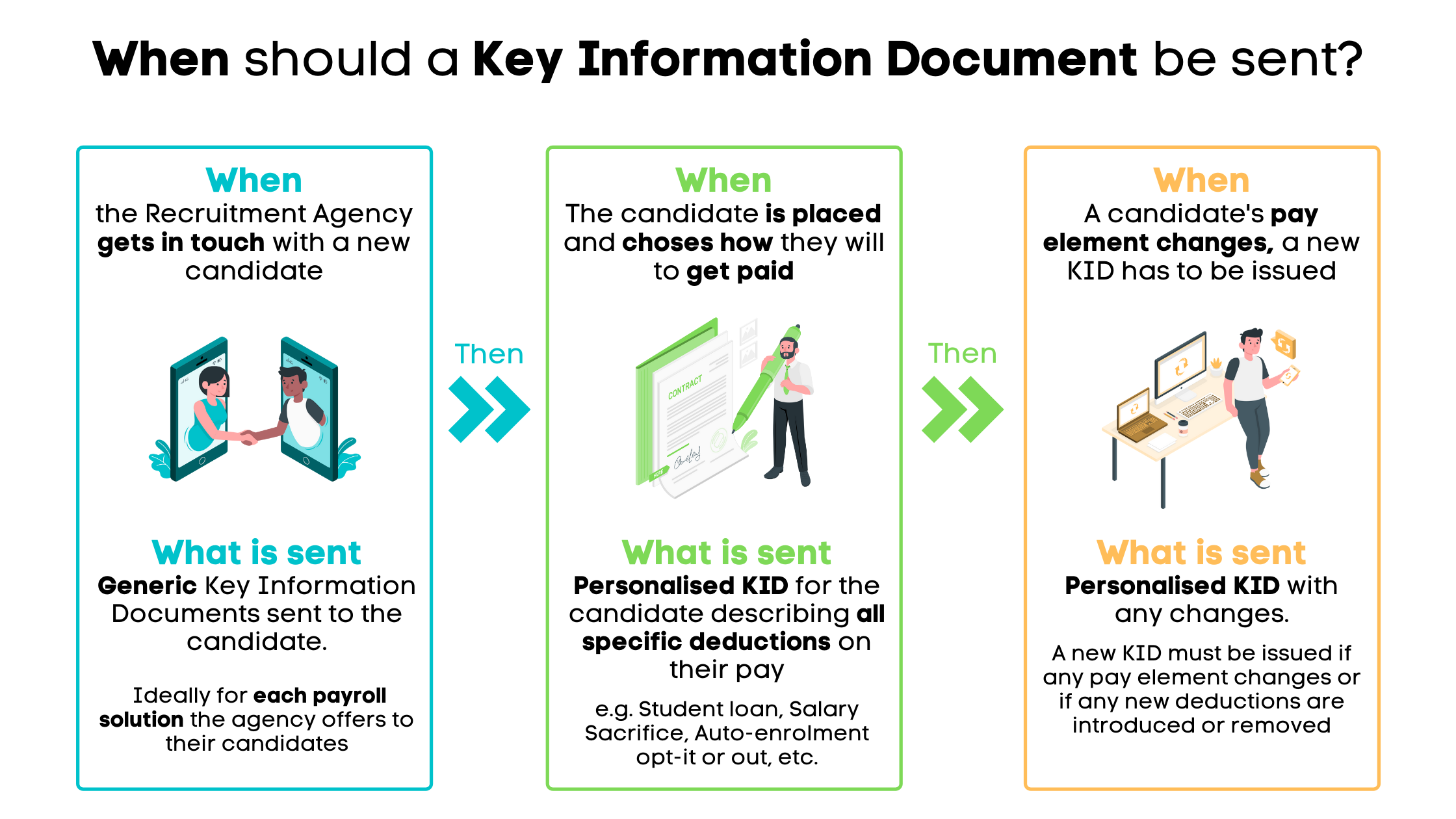 HMRC also adds in their guidance that:
"A change in assignment pay in itself may not necessitate a new key information document, but it would be considered best practice for employment businesses to ensure that key information documents are kept as up to date and as accurate as possible." (HMRC Guidance)
Now that we have discussed the compliance challenges faced by Recruitment Agencies, let's talk about the solutions!
A Key Information Document Generator
Several software companies such as SafeRec are dedicated to making the life of recruitment agencies simpler when it comes to staying compliant. This is the reason why we have created a Key Information Document Generator.
Our KID Generator has several advantages that are unique in the market and allow recruitment agencies to achieve the best practice that HMRC describe in their Guidance.
Here are some of the key features:
Generate Key Information Documents for any engagement method at any rate. As Umbrella Companies all follow the same tax rules, our tool can create KID for any Umbrella Company.
Generate all your Key Information Documents for all engagement methods takes just a few seconds.
A unique Collaborative solution where Intermediaries such as Umbrella Companies can easily inform Recruitment Agencies on any pay changes that would require a new KID to be issued
All Key Information documents can be sent in bulk at any time and without any limit.
Our KID Generator covers what some payroll software companies do not, such as salary sacrifice pension contributions, marriage allowance, student loans, etc.
Our powerful AI learns after each generation and makes sure that all KIDs are compliant (Minimum National Wage Alert, Pension Enrolment rates limits, etc…)
Be ready for Audit: As we cover all options, all your KIDs are centralised in the cloud, and easily searchable.
Learn more about SafeRec's Key Information Document Generator.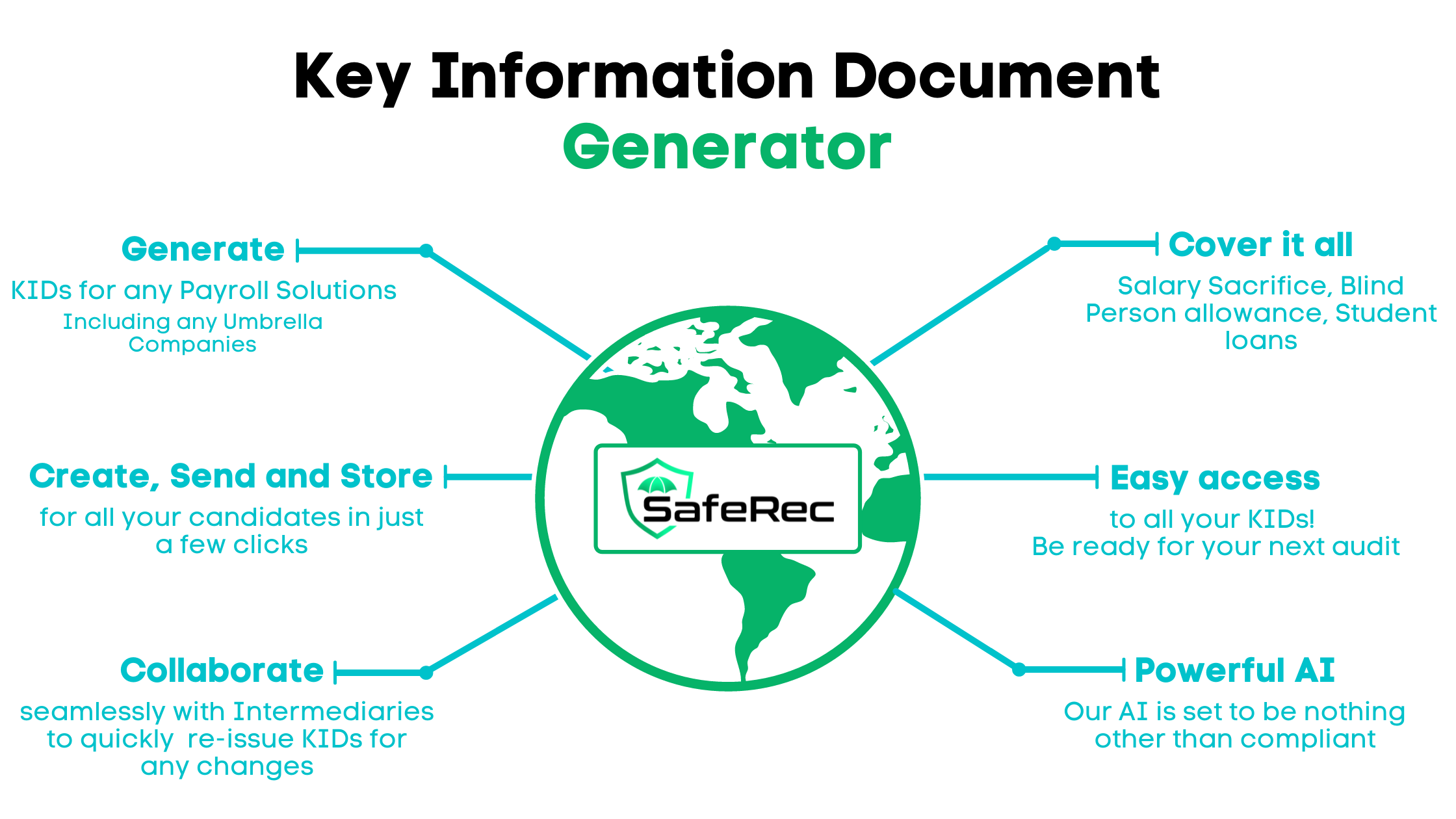 Conclusion
Key Information Documents have been applicable since April 2020, and there is no doubt that the news of the creation of a Single Enforcement Body (SEB), that will bring together HMRC Nation Minimum Wage Enforcement, The Gangmasters and Labour Abuse Authority, and the employment Agency Standards Inspectorate, will investigate which Recruitment Agencies are compliant and which ones are not.
As for the Criminal Finances Act, recruitment agencies MUST get ready and anticipate what they will do about these regulations before it is too late.